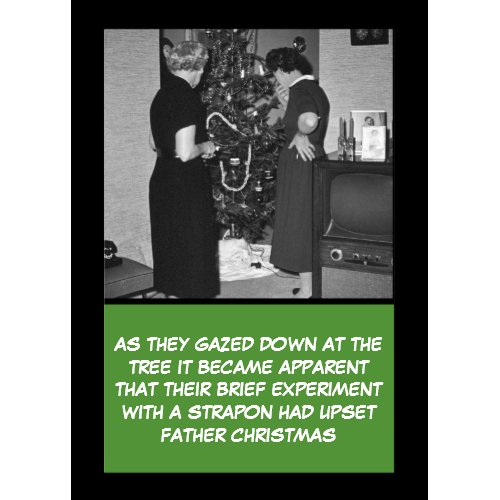 Crude Christmas
by
Cardsharkkid
View other
Lesbian Cards
This article is intended for entertainment purposes only; its content should not be taken as practical advice.

Christmas is upon us, and hopefully you'll be upon your partner in this time of giving. Whether you're with somebody new or you've unwrapped that box a hundred times before the holidays, our Christmas sex positions are sure to become instant holiday favorites. We've made a list, and you're welcome to check it twice. Whether you two are naughty, nice or a couple of depraved pervs, there's a goodie in this sack for everyone.

Number 10
Jingle Balls
This move centers around some classic teabaging, either before, during or after intercourse. So whenever you decide to do it, walk to the kitchen and frost your schwetty balls with leftover green and red frosting from the Christmas cookies to appeal to her sweet tooth and ensure extra-intense tongue action. Bonus points if you swirl some red frosting around your penis for a candy cane bonus.

Number 9
Santa's Little Helpers
Men, quit worrying about being "big" enough and start to think small; try imitating elves and have sex on your knees. A little pocket rocket vibrator can provide the elfin magic. Your usual smooth bass bedroom voice will ruin the whole thing, so keep helium close by to take hits and talk dirty in a higher octave. It's going to be a busy night on your part, but at least she can pretend she was with another guy while you maintain a size advantage in reality. If this position unleashes a previously unknown elf fetish, you're jolly well screwed.

Number 8
Silent Night
Not only is Christmas a great time for sex, it is also a time when family can be a little too close at all the wrong times. So this year, make the most of it by engaging in some exciting secret sex with your partner at a very unsuspecting time: Christmas dinner. The goal is for you and your partner to separately excuse yourselves in the middle of dinner, without arousing suspicion, then make your way up to an available bedroom for a quickie.

Number 7
The Stocking Stuffer
This Christmas sex position combines stockings and sex in close quarters. She'll be in crotchless or strategically ripped stockings, and you'll both zip into a sleeping bag together. From there, engage in any and all positions allowable by your physiques and your encased bedding. Closeness and friction will be the two factors you experience. After a while, you may get a whiff of hot nylon and/or singed hair. The decision to proceed will be yours; just remember the phrase "you would even say it glows" can apply to more than Rudolph's nose. Mutual ointment application is a popular form of after-play for this one.

Number 6
Snow Angel
So far, our Christmas sex positions have probably found you indoors, out of the cold. Even with the all the rockin' she's been doing around your Christmas tree, cabin fever might be setting in. Good news: You can get fresh air and still get some when you go outside to make snow angels. Way better than a snowman with a frosty schlong grafted on, these snow angels decorate the lawn beautifully and make for great stories to share. You'll have distinct his-and-her patterns, too. When you're on top in the missionary position, you'll be in charge of swinging out your legs, making for a taller angel. When she's on top, her knee impressions will make for a more bootylicious angel.


Number 5
Down the Chimney with Care
With all the Christmas songs and stories involving chimneys, no Christmas sex position portfolio would be complete without one involving your partner's ash pipe. Firstly, you'll need to sport a St. Nick's outfit ,and then, with her lying on her neck facing you, you give her an anal pile driver. Besides all the other sensations going on, the blood will be rushing to her head -- it's not unheard of for the drivee to pass out.

Number 4
Milk & Cookies
Santa Claus must get royally pissed off by the end of his run. Billions of houses, and he only gets milk and cookies for his trouble -- some treat. All that lactose and gluten probably has him spray-painting the porcelain well into the new year. For you and your partner, a dose of these "Milk & Cookies" can be a sweet, little snack. It's so simple, yet delicious: Just lap away at her breasts for milk while you engage her sugar cookie with your hands.

Number 3
Secret Santa
This one involves a Santa mask and suit, and a blindfold. Set up the encounter as your usual mystery seduction by tying up and blindfolding your girl. Then, dress up in your Santa get up and get down to business. Once everything is done, take off her blindfold and let her see who her secret Santa really is.

Number 2
Trim the Tree
Part of the Christmas tradition is a small degree of deforestation, as pines and firs are cut and cleared. What better time to cut and clear the fur forest of you and your partner? If you trust each other -- really, really trust each other -- try doing the job for each other. If there was ever a time to remind her how sensitive that skin is, this is it -- your life is in her hands. When you're both free of debris, you'll find oral fixations renewed and enhanced -- without the obligatory throat clearing and teeth-picking afterward.

Number 1
Chest & Nuts Roasting on an Open Fire
Fireplaces are always portrayed as romantic, but don't just settle for a cuddle and staring at the flames -- there's your own yule log to attend to. While she's on the floor on her back close to the fire, have her press her breasts together while you thrust your penis between them. Just establish a safe word to clarify between orgasms and flying cinders. For bonus points, try to douse the fire when you climax. Again, be reminded that cinders are unpredictable and unforgiving.

and to all a good night…

Work your way through a few of these Christmas sex positions and you'll be ready for a long winter's nap. Just do yourself and your partner a favor and remember to wrap your present before the gift-giving.

sourced from: http://au.askmen.com/dating/love_tip_300/375_love_tip.html